Riverland Energy Cooperative was built by the communities we serve to deliver safe, reliable and affordable energy to our members. The co-op services 20,000 meters, with 3,474 miles of line through Buffalo, La Crosse, and Trempealeau counties. As well as portions of Pepin, Jackson and Eau Claire counties.
With the membership receiving electricity at the cost of service, receiving equal ownership, and having direct input into the decision making process of the company- cooperatives are the most democratic form of free enterprise in the country.
Our History:
Buffalo Electric Cooperative
Buffalo Electric Co-op was a nonprofit electric distribution cooperative that was incorporated in June 1937 and then reincorporated on January 30, 1937 under the direction of the Rural Electrification Act. Buffalo Electric energized its first power lines March 14, 1938.
Trempealeau Electric Cooperative
Trempealeau Electric Cooperative was incorporated in the spring of 1936 as Trempealeau County Rural Electric Cooperative. On February, 1937, the board of directors met to reincorporate the cooperative as Trempealeau Electric Cooperative.
Riverland Energy Cooperative
In the late 1990's, the threat of deregulation swept the countryside. This prompted lengthy studies and discussions between the boards of Trempealeau Electric and Buffalo Electric Cooperative on the virtue of a merger between the two.
On June 1, 1999, the merger became a reality and Riverland Energy Cooperative was formed, comprised of Buffalo and Trempealeau Electric Cooperatives.
Our Power Provider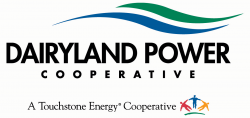 As an electric distribution cooperative, we do not generate the power we sell. Riverland Energy purchases power from Dairyland Power Cooperative (DPC), a generation and transmission cooperative headquartered in La Crosse, Wisconsin.
Dairyland provides wholesale electricity to 24 member distribution cooperatives and 15 municipal utilities in four states (Wisconsin, Minnesota, Iowa and Illinois).  Dairyland's generation resources include coal, natural gas, hydro, wind, landfill gas, biomass, solar and animal waste.